Pickled Carrots Recipe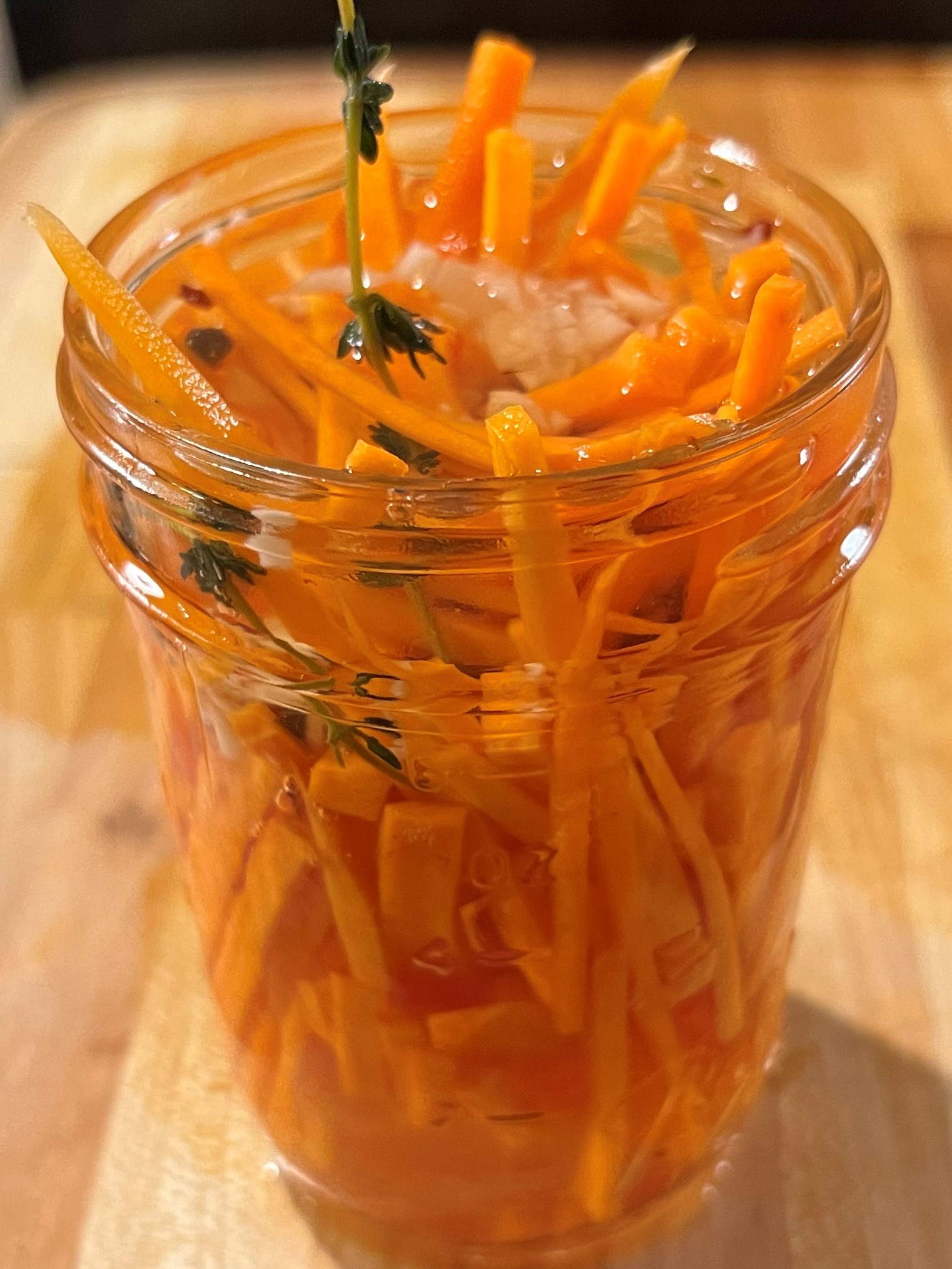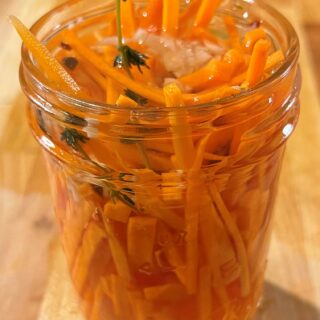 Pickled Carrots Recipe
Quick pickled carrots – Julienne aka Matchstick cut – Makes 250ml or 1 cup
Ingredients
1-2

Carrots

100

g

Water

1/2 cup

75

g

White Vinegar

3/8 cup

25

g

Apple Cider Vinegar

1/8 cup

5

g

Salt

1 tsp

16

g

Sugar

1.5 tbsp. Sugar substitute, such as honey is ok!

1

Cloves

Garlic

Minced or crushed

1

Sprig

Thyme

5

Black Peppercorns

1

Bay Leaf

1

Pinch

Red Pepper Flakes
Instructions
Julienne (Matchstick) Carrots
Cut into 2-3 inch / 5cm sections

Cut one edge lengthwise so you have a stable surface to cut the rest of the carrot

Turn to rest on that new flat surface

Stack a few of those slices

Save all the trimmings for stock or salads
Pickling Brine
Add water, vinegar, and apple cider vinegar, salt, and sugar to a pot and bring to a boil. Then remove from the heat.

100 g Water,

75 g White Vinegar,

25 g Apple Cider Vinegar,

5 g Salt,

16 g Sugar
Assemble
Put rest of herbs and spices in jar

1 Cloves Garlic,

1 Sprig Thyme,

5 Black Peppercorns,

1 Bay Leaf,

1 Pinch Red Pepper Flakes

Pour brine into jar. Add more water if it doesn't fill up all the way.

Let sit at room temp uncovered for an hour.

You can eat them right away or put in fridge.

They'll last a few weeks.