Pickled Red Onions with Apple Cider Vinegar, Smoked Salt, Shallots, and Poblano Peppers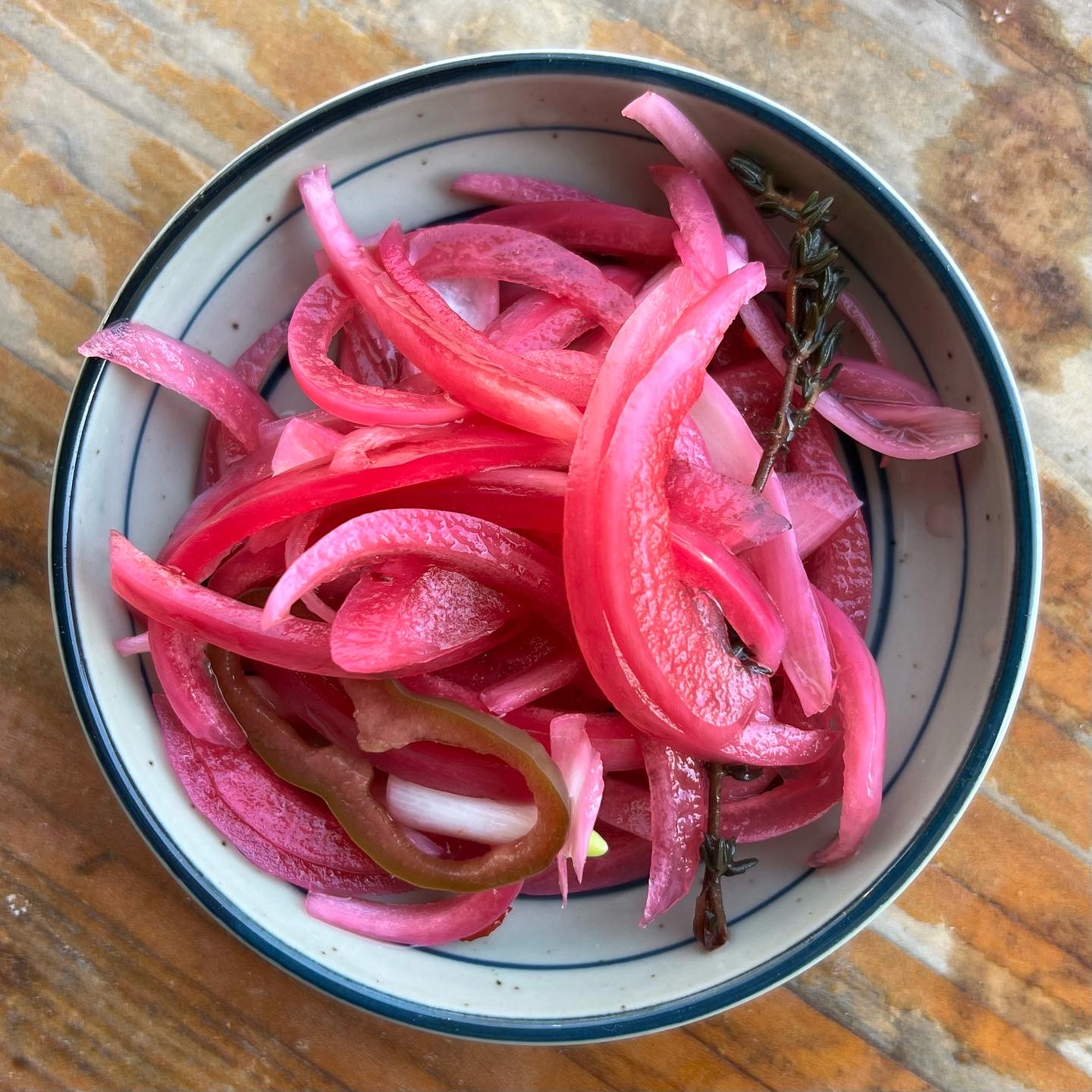 Pickled Red Onions with Apple Cider Vinegar, Smoked Salt, Shallots, and Poblanos
Since I make Pickled Red Onions on a weekly basis, I like to mix things up by trying different vinegars, spices, and vegies.
Ingredients
1

Large

Red Onion

1

Shallot

1/4

Poblano Pepper

1

cup

Water

240g

1/2

cup

Vinegar White

120g

1/2

cup

Apple Cider Vinegar

120g

2

tsp

Smoked Kosher Salt

12g

3

tbsp

Sugar Or Sugar Substitute

38g

2

Cloves

Garlic

Smashed

4

Sprigs

Thyme

10

Corns

Black Peppercorns

2

Leaves

Bay Leaves

1

Pinch

Red Pepper Flakes
Instructions
This week, we are going with apple cider vinegar, homemade smoked salt, shallots, and poblano peppers.

To a pot, add 1/2 cup or 120 grams of white vinegar, 1/2 cup or 120 grams of apple cider vinegar and 1 cup or 240 grams of water. Add 2 tsp or 12 grams of salt and 3 tablespoons or 38 grams of sugar.

1/2 cup Vinegar White,

1/2 cup Apple Cider Vinegar,

2 tsp Smoked Kosher Salt,

3 tbsp Sugar Or Sugar Substitute,

1 cup Water

Bring that brine to a boil and started cutting vegies.

Starting with the onion, cut off the ends, cut in half, and then cut them root to stem.

I cut the shallots the same way I cut the onion and cut the poblano into rings

I then add the vegies to the jar and add smashed garlic, red pepper flakes, peppercorns, bay leaves, and thyme.

Using a funnel pour the brine into the jar over the vegies. If you don't have enough liquid to submerge them all the way you can add a little more water.

You can eat these right away, or let them sit at room temp for an hour, and then put them in the fridge. They'll last about two weeks, but never last that long in my house.

These were the best picked red onions I've made so far. The apple cider vinegar was a great additional flavor, but was a bit strong, next time I'd go with 1/4 cup,

I don't know if the smoked salt made a difference but the overall taste was amazing, so I'll continue using it.

The shallots provided a nice sweet crunch and the poblanos gave it the perfect kick.

Let me know in the comments what I should pickle next.