Which Weber Charcoal Grill Should I Buy?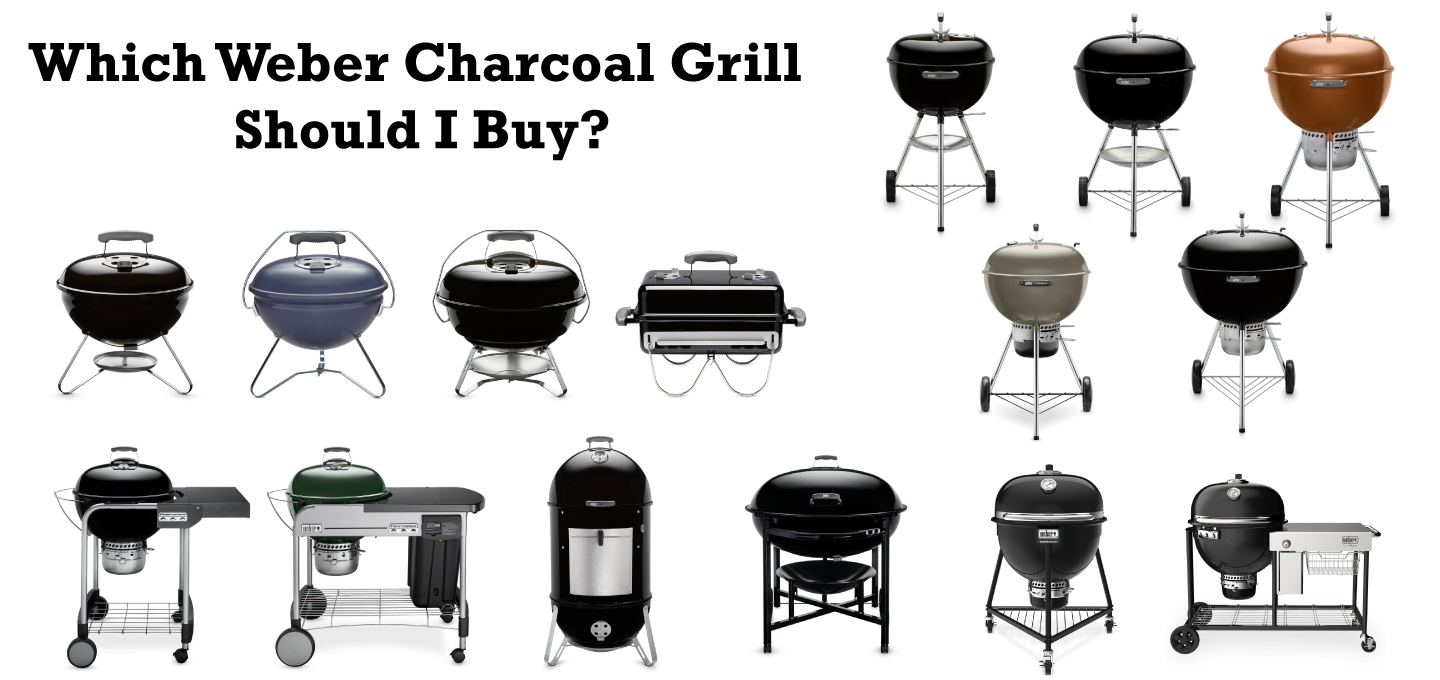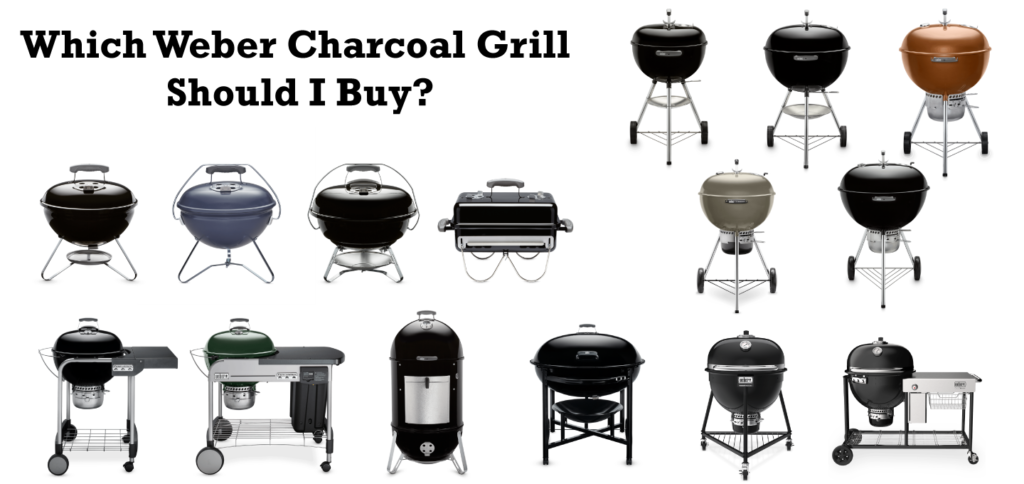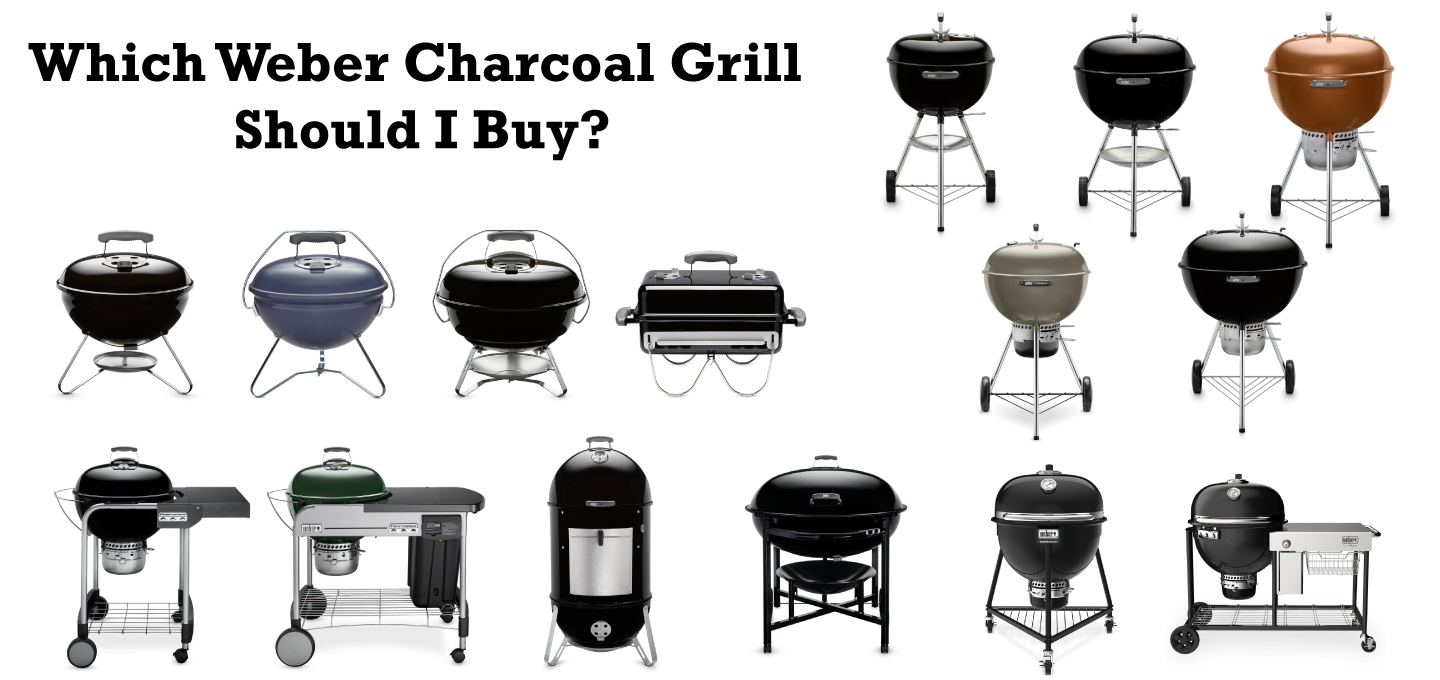 My friends know I'm a huge Weber charcoal grill fan and often ask which Weber charcoal grill I recommend. They are usually friends who have been grilling with gas grills and have heard that grilling with charcoal is a much more satisfying and enjoyable experience (mostly from my preaching). I have extensively researched all of Weber's charcoal grill offerings and figured I'd write it all down and share with you – including my thoughts and experiences of being an experienced Weber griller. I hope this post helps you find the Weber charcoal grill that best suits your needs.
Before my charcoal and real-wood/live fire obsession, I spent many years grilling with gas grills. It wasn't until my neighbor gave me a 14″ Weber Smokey Joe and a charcoal chimney that I got hooked on charcoal. The rich flavor, sear, and char you get with burning charcoal and real-wood just can't compare to cooking with gas. If you are like me and were primarily a gas griller and want to get into charcoal grilling, then this is the post for you.
The 14″ kettle is a great little grill that I cooked with for many years. It was perfect for a family of 3. Small enough to get up to temp quickly and big enough to fit enough meat to feed all 3 of us. I have brought that grill to the beach, camping, and I've even tailgated with it (tacos as the Labor Dave Weekend at the Gorge). I got the canvas carrier bag and took that little grill with me to most places. It fits nicely in the back of a car and doesn't take up much room.
I have since upgraded to a few different 22″ Weber Kettles and have spent many years cooking and even smoking with it. I personally haven't extensively tried other charcoal grill brands because I get great results with Weber. This post is all about what grill to get for basic BBQing, like burgers, steaks, chicken, hot dogs, etc. I also smoke meat with smokers and the Weber kettle. Which I will get to in a future post. But for now, let's look at what Weber has to offer for charcoal grills and get you all setup with one.
Grilling Gear
This post is all about helping you figure out the right Weber charcoal grill to buy, but keep in mind that you'll need a few other things as well. Here's a list of what I consider required and nice to have gear.
Required Gear
Grill – To hold the meat while it cooks.
Charcoal – Fuel to cook the meat.
Chimney – Steel tube to hold the charcoal while it lights and heats up.
Fire Starter – To hold a constant flame on the charcoal so it lights well.
Tongs & Spatula – To flip/handle meat
Grill Brush – To clean the grill grates
Meat Thermometer – To measure the meat temperature as it cooks. Also, check out Thermoworks Thermapen. I recommend the Thermapen ONE | ThermoWorks – but $100 is a bit to swallow for a new BBQer. Well worth it though.
Nice to Have Gear
Questions to ask yourself:
To help you figure out what kind of grill you are going to need it will be helpful to ask yourself a few related questions to narrow things down.
1. What size should I get and what is my budget?
How many burgers will you typically need to cook at the same time? This is a good question to ask to determine the size of a grill you'll need.
5 Burgers & Portable: 14″ Smokey Joe for $40
9 Burgers & Portable: 18″ Jumbo Joe for $80
9 Burgers: 18″ Kettle for $110
13 Burgers: 22″ Kettle for $129-300
19 Burgers: 26″ Kettle for $390
20+ Burgers: 37″ Kettle for $1680
You can obviously do multiple rounds of cooking if you need more burgers, so base your decision on the typical number of burgers you'll need to cook. I have since outgrown this by leaps and bounds, but for years, for me that number was 3 burgers, so the 14″ Kettle worked well.
Another big factor is your budget. If you want the most economical, but great entry level option, then the 22″ Original is a great way to go.
2. How portable do I need the grill to be?
You can turn any grill into a "portable" grill by just throwing it in the back of your truck or removing the legs and throwing it in the back of your SUV. Whether or not you should get a portable grill for your first grill purchase depends on how much work you want to put into making it portable.
Weber makes 3 easily portable charcoal grills. If you want ultra-portable, grab with one hand, don't disassemble, and put in any type of car, SUV, or truck, then these 3 options will work out the best.
Smokey Joe 14″ Kettle $40-50
Jumbo Joe 18″ Kettle $80
Go-Anywhere Charcoal Grill $65
If you don't intend to travel with it much or are okay with having to remove the legs for travel (and it taking up more space), then the regular 22″ Weber kettle is going to be a better option.
3. What type of grilling am I going to be doing?
If you are going to do typically grilling, like burgers, dogs, wings, and steaks, then a regular kettle will be fine. Just figure out what size you need based on the number of burgers you are going to cook.
If you are wanting to get into smoking, like ribs, pork shoulders, whole chickens and briskets, then you should consider a few things. You can smoke with any size kettle, and I have, but if you want to do a full rack of ribs, or a whole chicken, or whole brisket, then you should look at either getting the 22″ Kettle, the 22″ Smokey Mountain smoker, or the 24″ Summit Kamado. I do not recommend you get a Smokey Mountain for your first charcoal grill. There's a lot to learn and it's more difficult to do regular grilling on a Smokey Mountain. If you are an experienced griller, then you'd want to look into getting a Smokey Mountain as a dedicated smoker.
Top Recommendations
This post goes into great detail on each of the features, but I want to start off with a summary of what we recommend based on your situation and needs. Please continue reading the post to get into the details on why we make these recommendations.
Weber Grill Features
Before we get into my detailed analysis and comparison charts it is a good idea to have a look at all of the features and options for each feature. These will factor into your make-or-break decisions later.
Keep in mind that you do not need "fancy" features to be a better BBQer. It's not about the tools…but they do make things more convenient. For example, you don't "need" the Tuck-Away lid holder, but it sure is nice considering that you'll need to remove that lid hundreds or thousands of times and setting it on the ground or trying to find the lid hook is a pain. Not necessary, but super helpful.
Bowl & Lid
All Weber charcoal grills are made from the same steel and coated with porcelain enamel.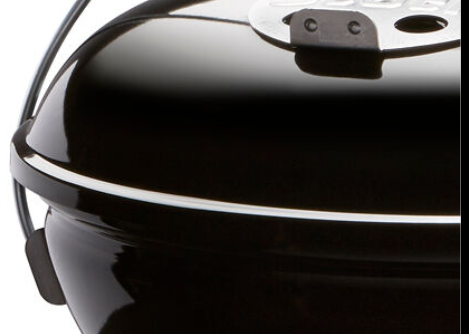 Dampers
All Weber charcoal grills come with dampers that facilitate airflow through the kettle and help you control the grill's temperature. All of them have them on the lid, most have them in the bowl. You want to find the grill that has them both in the lid and bowl for good airflow.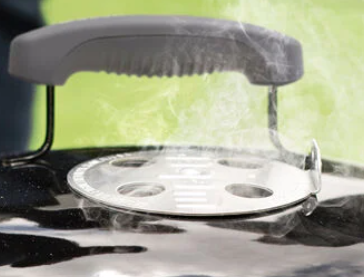 Thermometers
Some Weber grills have a thermometer in the lid. Most grillers don't depend on it because it isn't at grill height and isn't usually accurate. So, we'll buy another thermometer and mount it at grill level.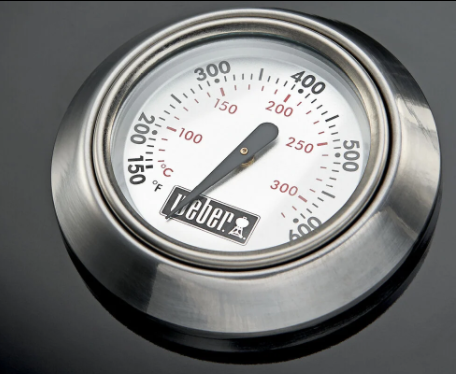 Cooking Grates
The cooking grates come in 3 levels: Basic, Folding, and Gourmet. You'll get by with Basic, Hinged is nice because you can add coals in the middle of a cook without removing the meat, Gourmet is the best because you can swap out the center for other attachments like pizza stones or s cast iron skillet.
Basic will get the job done.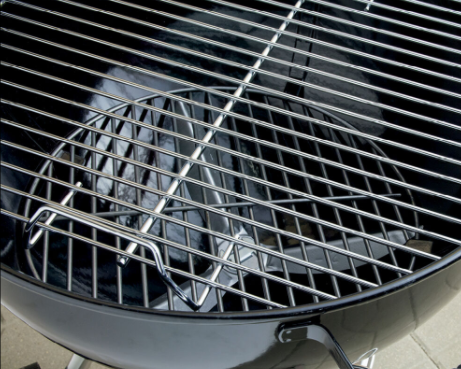 Hinged is nice for adding coals and wood chunks in the middle of a cook.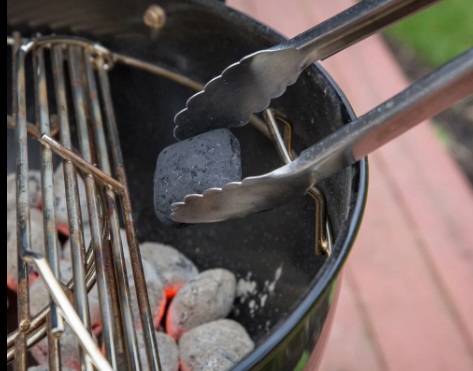 Gourmet is nice for extras while you cook. Cast-iron inserts and pizza stones.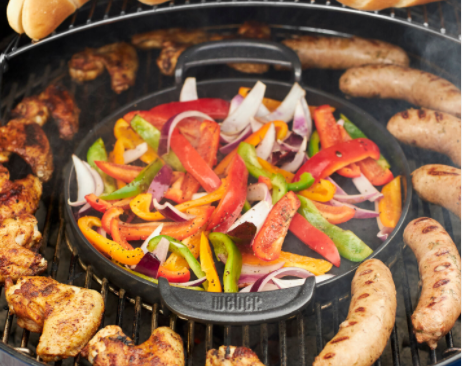 One-Touch Cleaning System
This allows you to easily get the ashes out of the bowl without having to vacuum or dump the grill upside down. Not included in portable grills. All Kettles 18″ and above include it.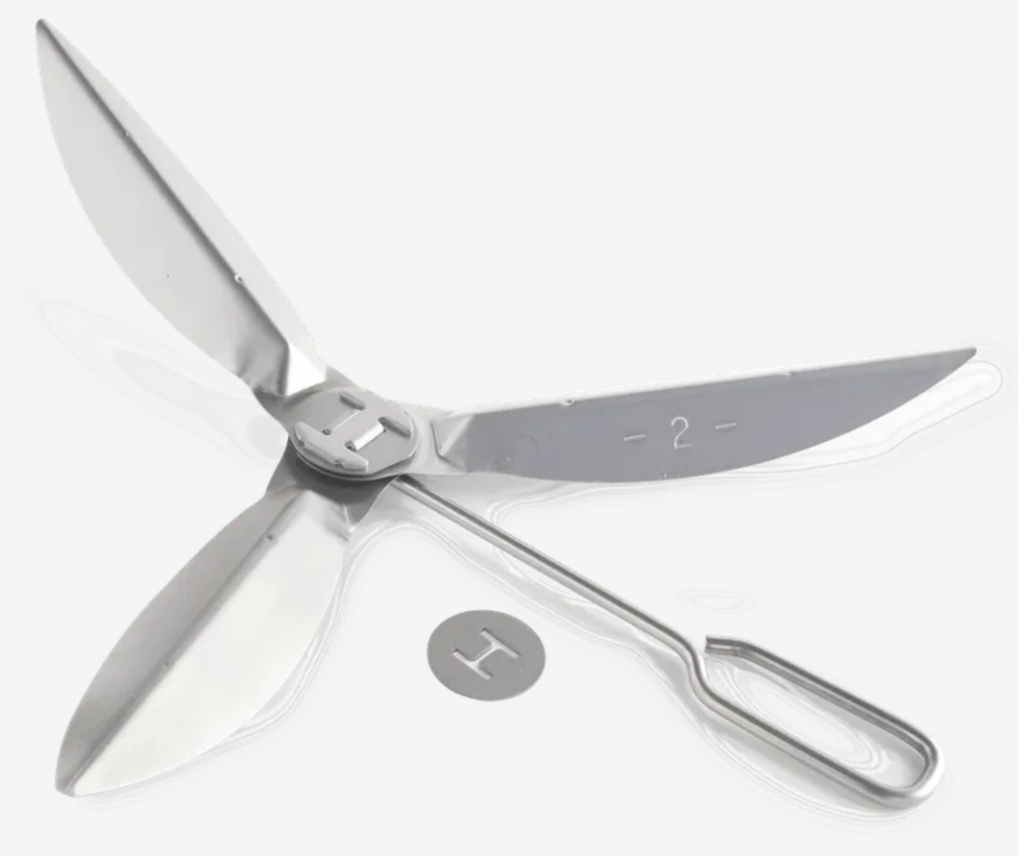 Ash Catcher
The ash catching system comes in 2 levels: Tray and Bowl. Having the bowl is nice and worth the extra money for easy clean up.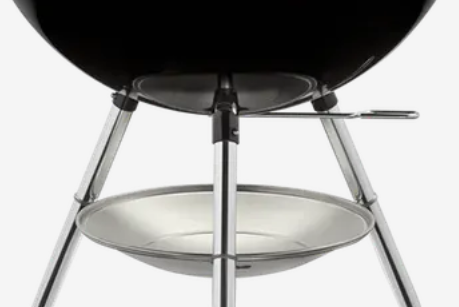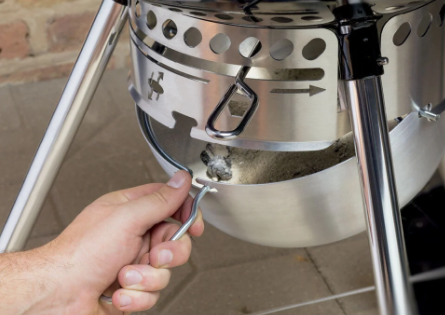 Lid Holder
When you take the lid off you are going to need to rest it somewhere. There are two types of lid holders: Hook and Tuck-Away
Hook gets the job done. Prevents you from having to put it on the ground or a nearby table. But not as nice as Tuck-Away.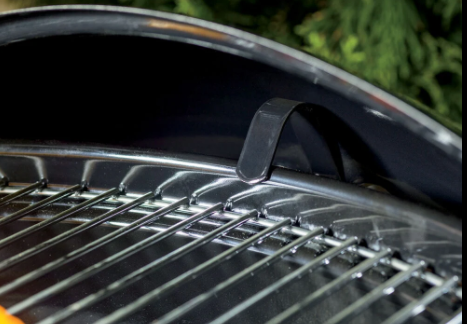 Tuck-Away is very nice because you don't need to fiddle with trying to find the little lip of the Hook holder.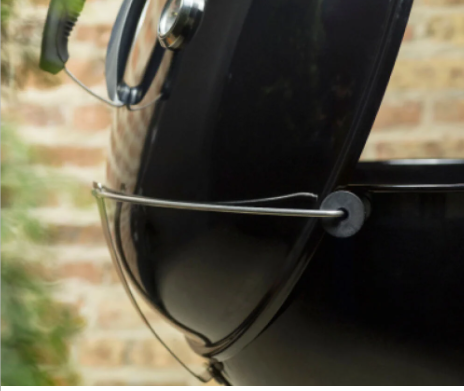 Warming Rack
This is handy for holding foods that are done while you wait for other foods to finish cooking. I believe this only comes with the Master-Touch model.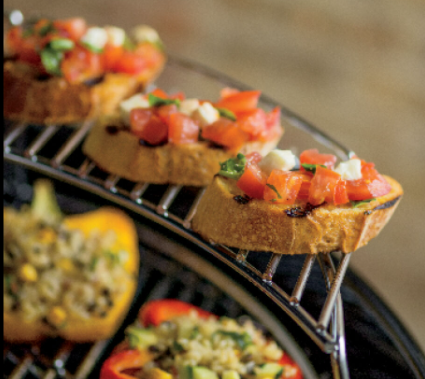 Char-Baskets
These are great for setting up one, two, or three zone cooking for direct or indirect cooking. Highly recommended. They come with Master-Touch, 26″ kettles, and Performer models and are $20 separately.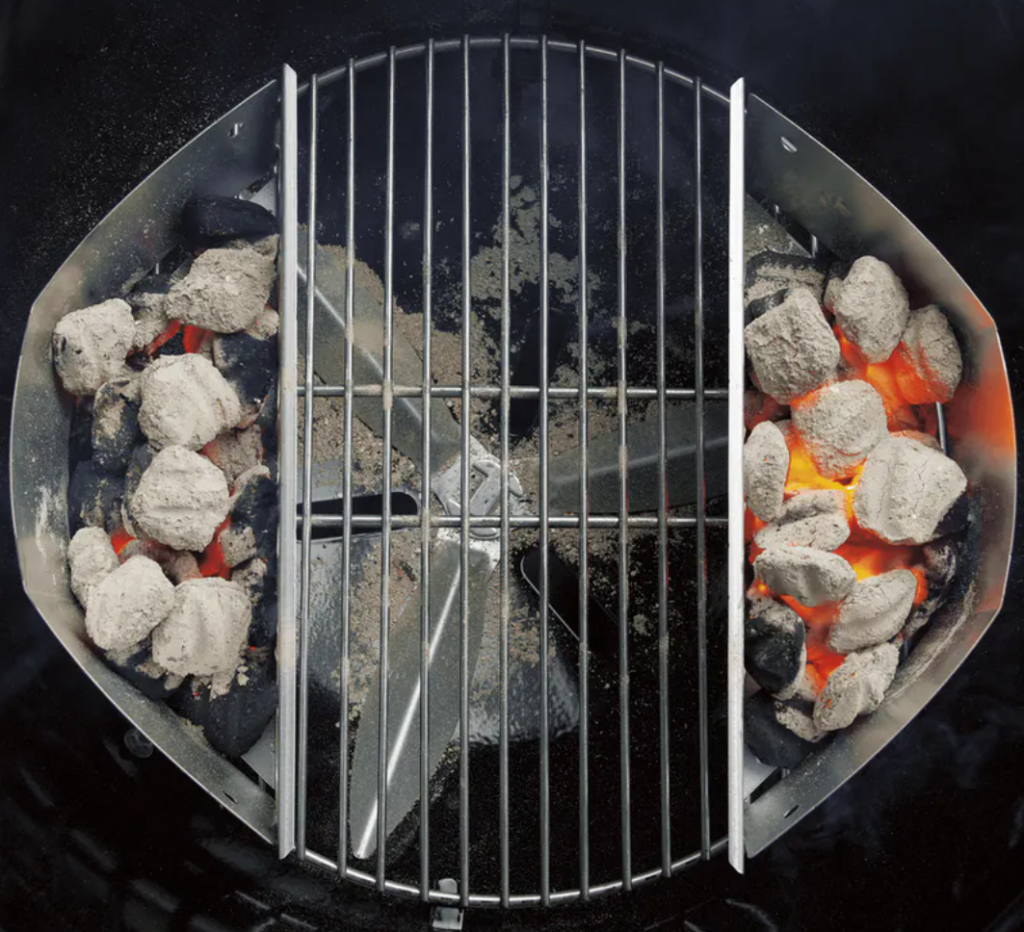 Tables
The Performer series comes with either a folding table or a static table. I own the Performer and use the side table all the time.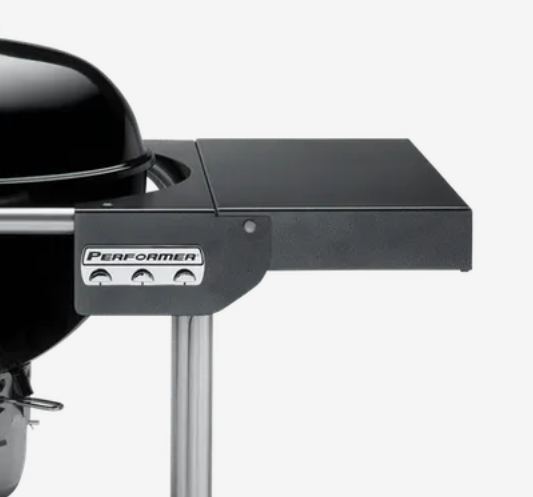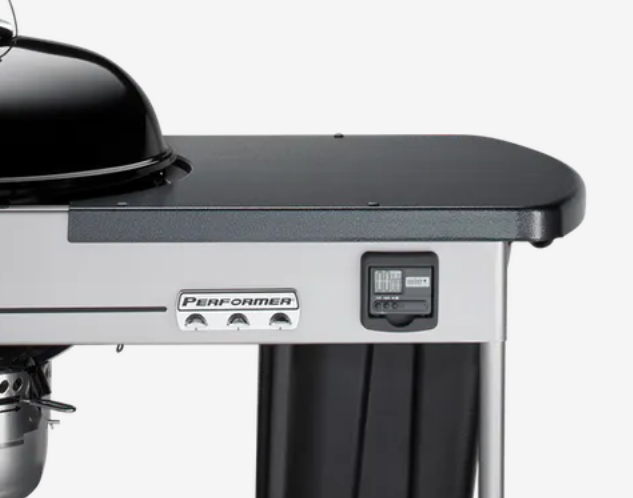 Weber Charcoal Grill Comparison Table
Weber Charcoal Grills
We're now going to go through each grill and share our personal experiences and thoughts with each one. We haven't tried them all, but have enough experience with a wide range of them to hopefully help you find the best one for you.
14″ Smokey Joe ~$40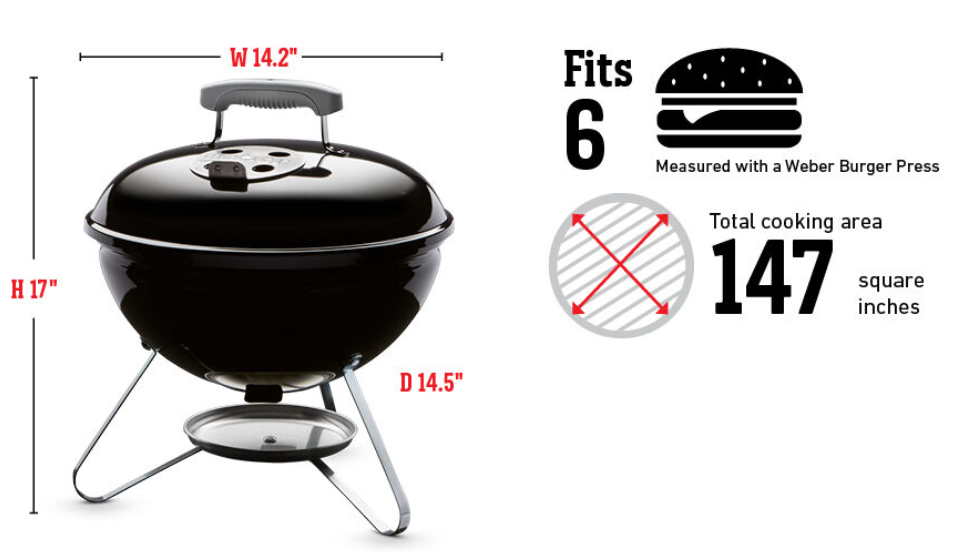 As I mentioned before, the 14″ Smokey Joe is what I cut my BBQ teeth on. It's ultra-portable, great for small families, and doesn't require a lot of coals to get it going. That being said, I wouldn't recommend it if you are buying new, since we now have the 18″ Jumbo Joe or the 22″ Kettle (if you don't need portable) for not that much more money.
Backyahd Recommendation: Yes, but only if you want ultra-portable and don't have space for the 18″ Jumbo Joe
14″ Smokey Joe Premium ~$50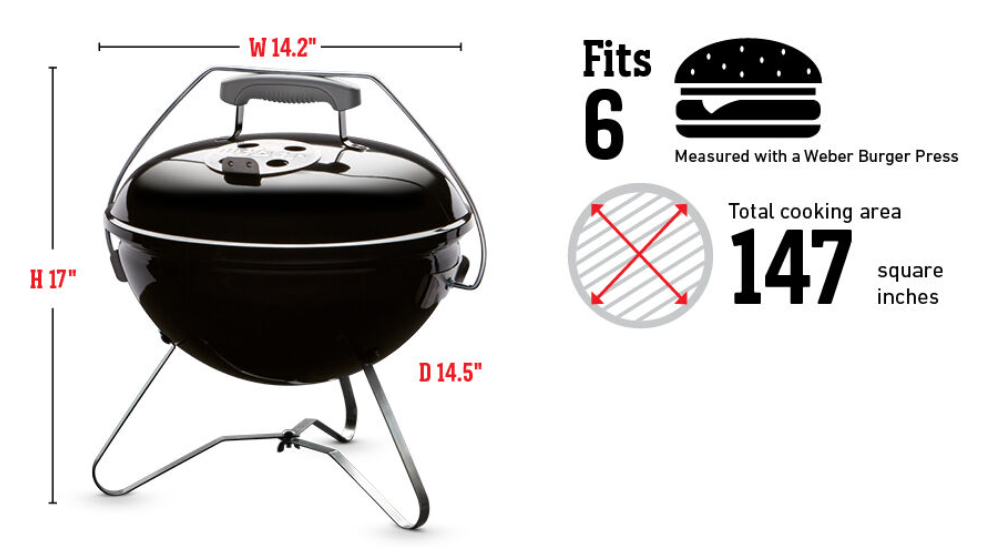 The 14″ Smokey Joe Premium includes a lid-holder, which is nice because I use bungie cords with my 14″ Smokey Joe. But, it doesn't have a bottom vent, which may help with airflow. If you ever wanted to try to smoke with the little 14″, which can be done, then you need a bottom vent.
Backyahd Recommendation: No, I would stick with the 14″ Smokey Joe or go for the 18″ Jumbo Joe.
Go-Anywhere ~$65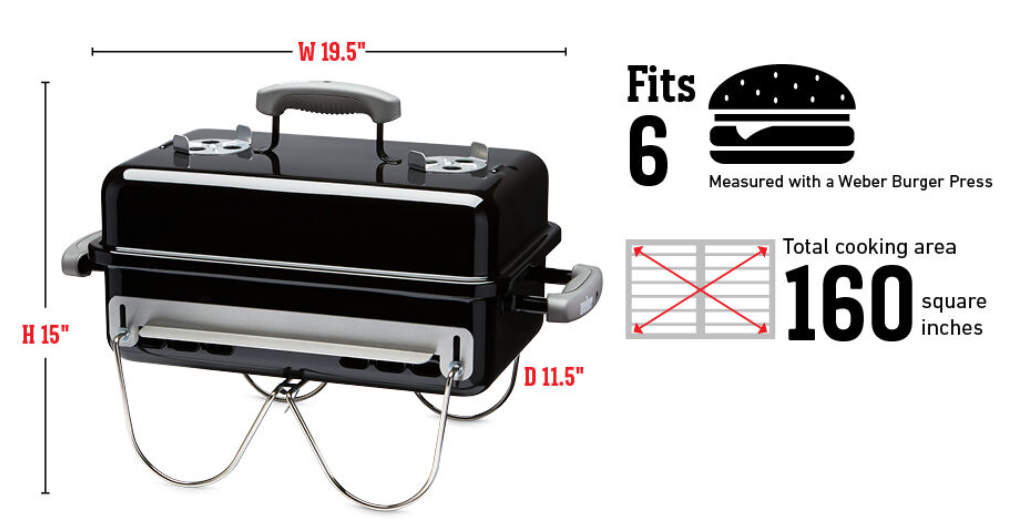 Weber also makes a rectangular grill called the "Go-Anywhere" grill. I personally haven't tried it, but I like the concept and think that the dimensions would allow it to fit into my vehicle a little easier than the circular grill.
But here are my concerns:
Depth: It is a very shallow grill, so you don't have a lot of space between the charcoal and the food. You can do indirect cooking or use fewer coals to get around this.
Dampers: It doesn't have bottom dampers, so you won't be able to control the airflow.
That being said, if you like the design better, then try it out. But for me, I'd stick with the classic kettle design.
Backyahd Recommendation: Maybe – We haven't tried it, but it looks promising.
18″ Jumbo Joe Kettle ~$85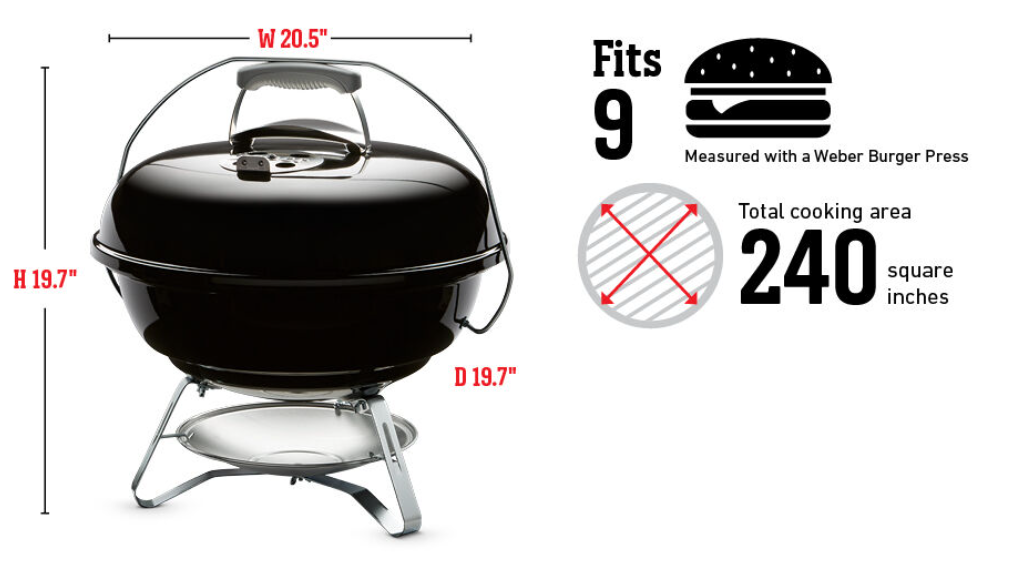 If I were going to get a portable grill, then this is the one I would go with.
Here's why:
Tuck-N-Carry lid lock: It has a lid locker so you can easily pick it all up with one hand. The 14″ regular doesn't – so I have to use bungie cords to strap them both together.
Dampers: It has bottom dampers – the 14″ premium doesn't. Bottom vents are crucial for getting good airflow.
Grill space: You get 4 more inches of grill space. 107 square inches more.
Backyahd Recommendation: Yes, this is our top recommendation for portable or starter grill.
18″ Original ~$110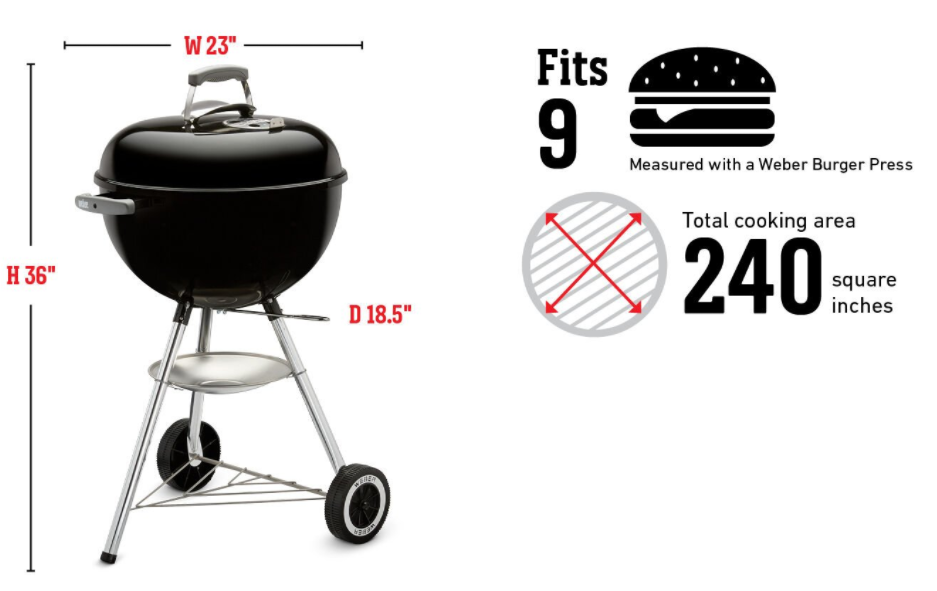 Unless you are very strapped for physical space in your backyahd or deck, I personally don't see why anyone would go with an 18″ regular Kettle. The 22″ kettle is only $20 more and you get a lot more cooking space.
Backyahd Recommendation: No, just get the 22″ for $20 more.
22″ Original ~$130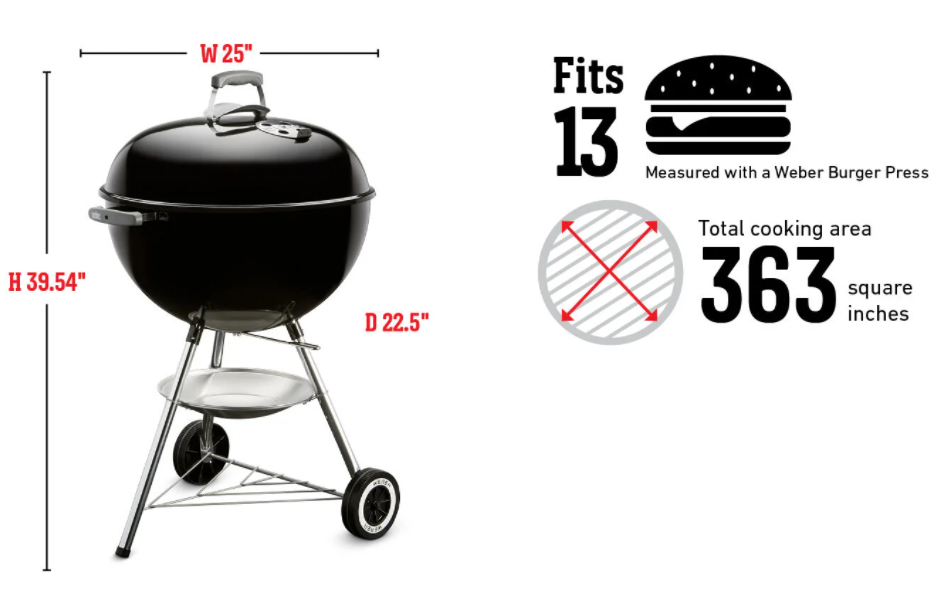 This grill Weber's bread and butter. It is a very good entry point into Weber charcoal grilling. It is actually the first 22″ kettle that I owned, and it was very good to me. You can do so much with this basic grill. If you want the best option for the fewest number of dollars, then this is the way to go.
Backyahd Recommendation: Yes – Basic, yet powerful.
22″ Premium ~$195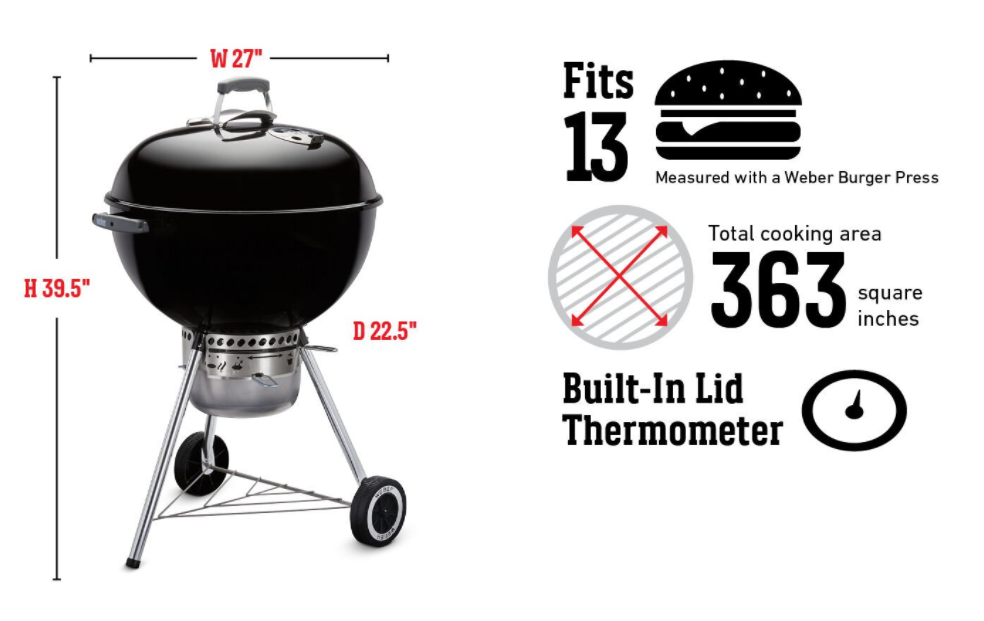 The Premium is the same as the Original and comes with:
Thermometer – These are notorious for being incorrect, so it doesn't add much for me. This should be used as a general guide, not as the truth. You really want a thermometer at grate level.
Hinged Cooking Grate – So you can easily add charcoal without having to remove the whole grate. This is handy when you need to add charcoal mid-cook. I've done without it, but having it is nice. If you already have the original, then you can buy the hinged cooking grate separately for around $35.
Ash Catcher – That little bowl you see under the kettle catches the ash. It's nice, because the ash goes in the catcher and not all over your deck.
If I was short on cash and trying to decide between Premium and Original, then I would go with Original and then upgrade the grate to a hinged grate later.
Backyahd Recommendation: Yes – Love the ash catcher.
22″ Master-Touch ~$250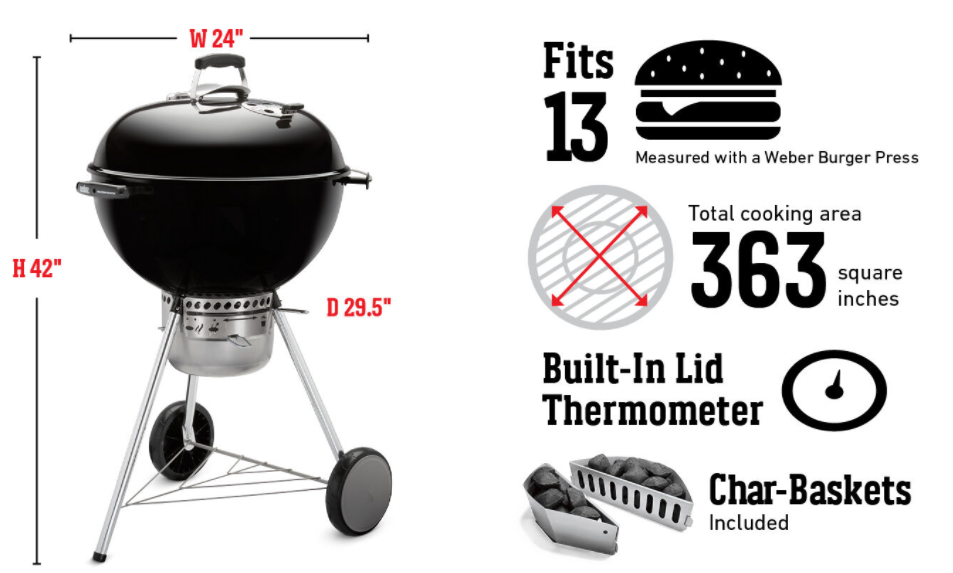 The Master-Touch is the same as the Premium and comes with:
Char-Baskets – This are very handy to have, especially for indirect cooking – They are around $20 to buy individually.
Gourmet BBQ System Hinged Cooking Grate – This allows you to replace the middle of the cooking grate with a pizza stone or a cast iron pan. I have this grate, but I haven't ever used one of the inserts. I want to try an insert someday though.
Tuck-Away Lid Holder – This allows you to easy stow the lid. All 22″ models have a little hook on the inside of the lid to hang it with. The Master-Touch version is much nicer. You can easily just slide the lid off and not thing about having to catch a little hook for it to stay connected.
Warming Rack – This is handy for when you want to say keep buns warm while you cook your burgers, or keep done vegetables warm.
I personally think Master-Touch is overkill for a first grill. You can buy the char-baskets separately. The Lid Holder is nice and worth the extra $50 in my opinion. If I were Weber, then I would also include a nicer thermometer with Master-Touch.
But if this isn't your first grill or you want the most bang-for-your-buck, then this is a great option. If you have the money, then go with this one with the bells and whistles.
Backyahd Recommendation: Yes – Love the tuck-away lid holder.
22″ Performer ~$320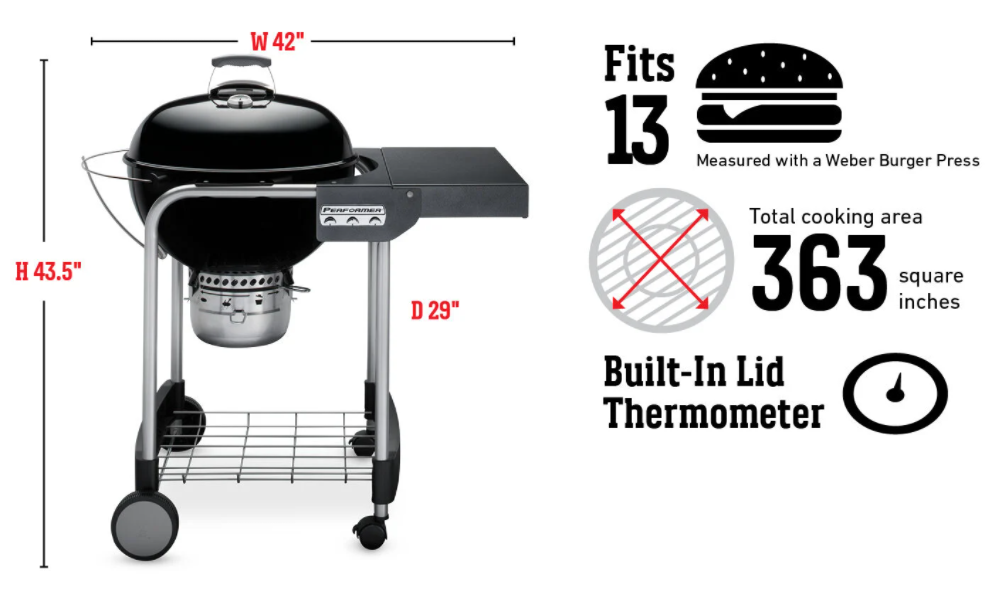 This is the one I personally own and bought with my own money. I get a lot of use out of the shelf and the bottom rack. I use them every time I cook so I think it is worth the extra money.
The Performer is the same as the Master-Touch and come2 with:
Fold-Down Table – I use this all the time.
But, unfortunately, doesn't come with:
No Char-Baskets
No Warming Rack
If I were Weber, I would include the Char-Baskets and Warming Rack with the performer.
Backyahd Recommendation: Yes, but only if you need the side-table.
22″ Performer Premium ~$460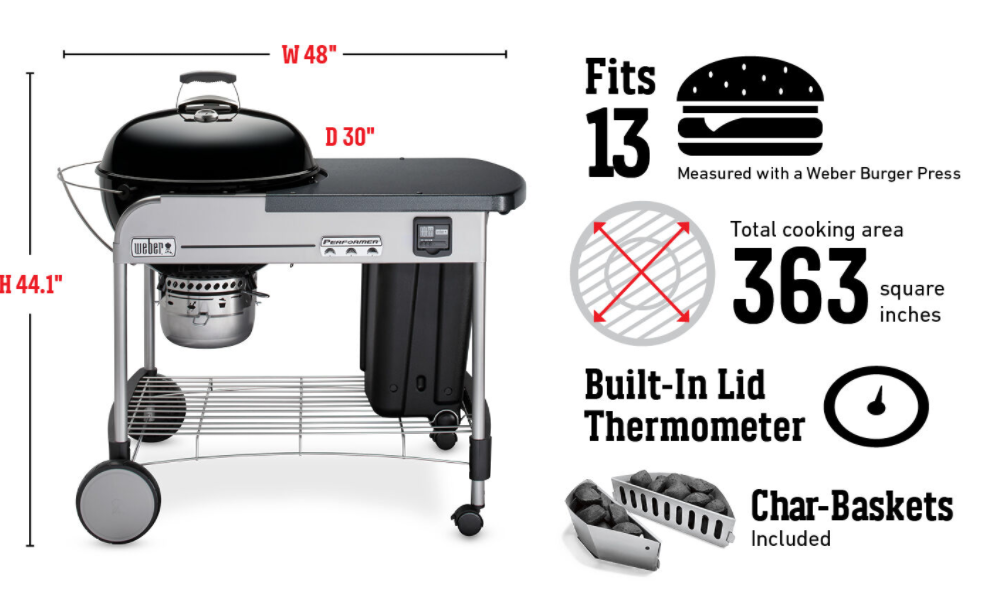 The Performer Premium is the same as the Performer and comes with:
Char-baskets – Great to have, but only $20 to buy separately.
A bigger side table – which would be very nice
More storage – You get a little more storage under the table.
Charcoal storage container – I use a different charcoal storage system, which I like better because it has a cover. I'm in a humid/damp climate, so I try to keep my charcoal covered as much as possible.
A timer – I use my phone, so don't need this.
When trying to decide between the Performer and the Performer Premium, ask yourself, "Is a bigger table and char-baskets worth $140 more?"
Backyahd Recommendation: Yes – But only if you need the big side table as it is $140 more than the Performer.
22″ Performer Deluxe ~$500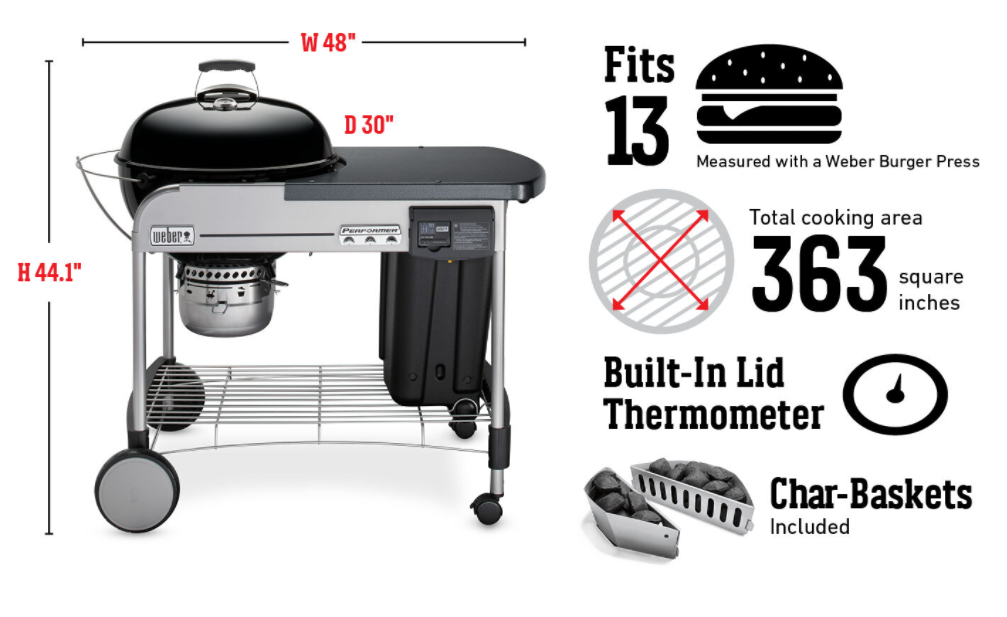 The Performer Deluxe is the same as the Performer Premium and comes with:
Touch-N-Go Ignition – This allows you to light the coals with the touch of a button. I personally wouldn't pay extra $40 for this system, because you need butane tanks, and the system will likely fail at some point. You might as well just save the $40 and light the coals with a chimney and a fire starter.
We have this grill, but we picked it up used and the ignition system didn't work when we got it.
Backyahd Recommendation: Maybe – We aren't sold on the ignition system. Just light it with fire starters. But, if you can find one for cheap or the same price as the Performer Premium, then it is a decent option. But don't pay extra just for the ignition system.
26″ Original ~$390
The 26″ kettle would be a good option if you really need the space for 6 extra burgers, but I have a feeling that most people don't need the space and it is almost $200 more than the 22″. I personally cannot justify the extra expense.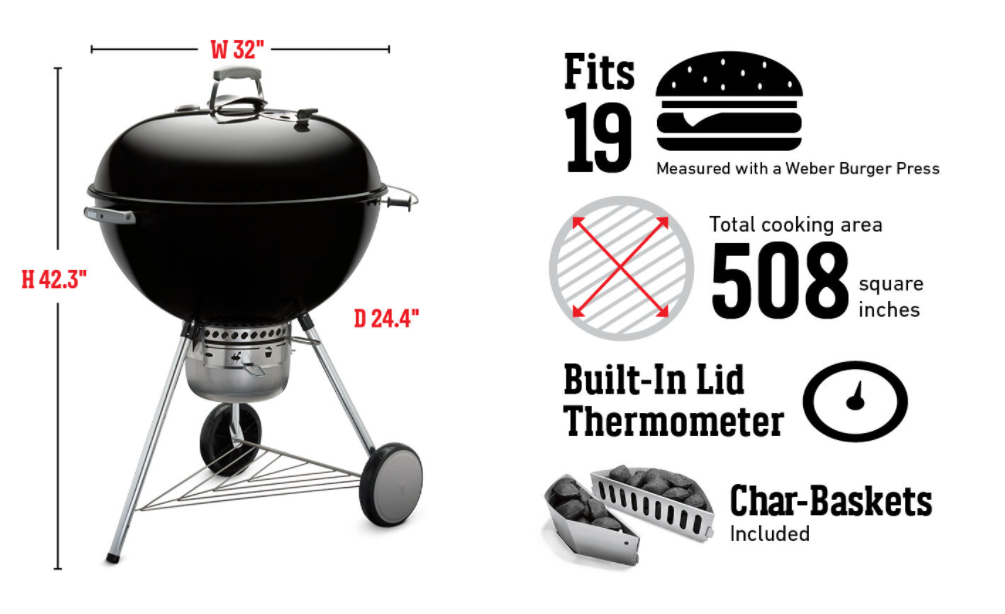 Backyahd Recommendation: No – Too expensive for only fitting 6 more burgers than the 22″.
37″ Ranch Kettle Charcoal Grill ~$1680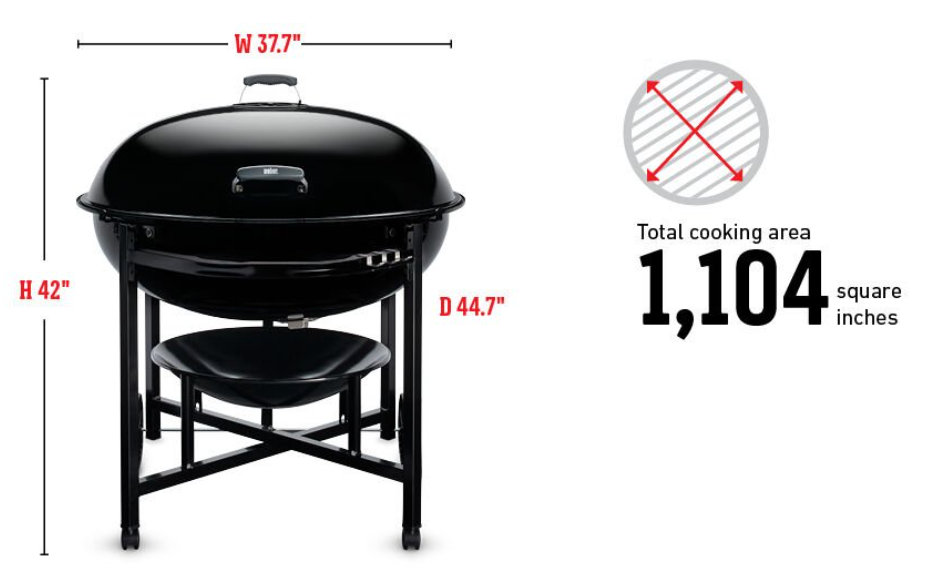 This 37″ Kettle is a beast. 1,104 square inches of cooking space and it looks amazing. This is basically a 37″ original kettle, with a lid-holder, and an upgraded platform. It's a lot more money than the 22″ original, so you'd really go for this option if you really need the grill space – I think you can do like 40 burgers on it…
Backyahd Recommended: Yes – Epic grill if you can afford it.
24″ Summit Kamado ~$1200-2000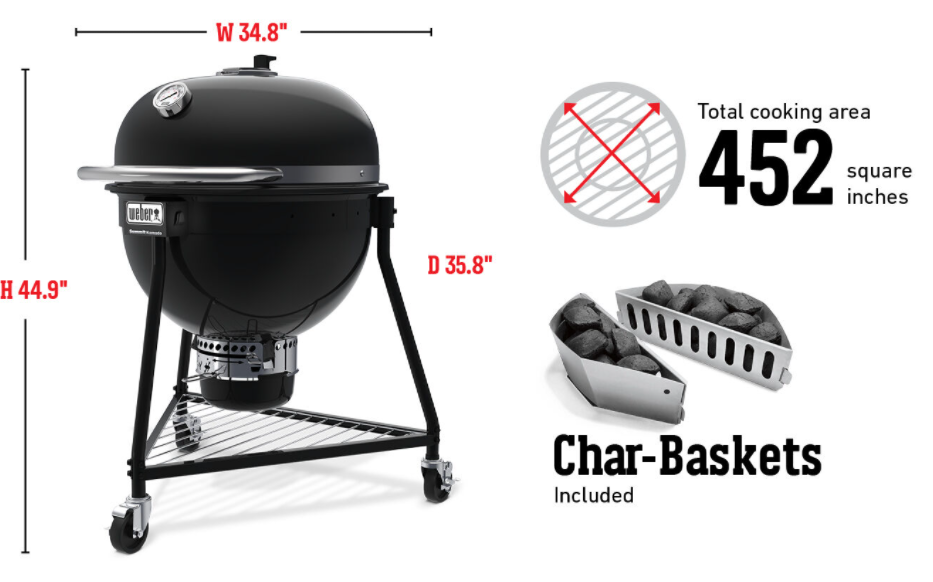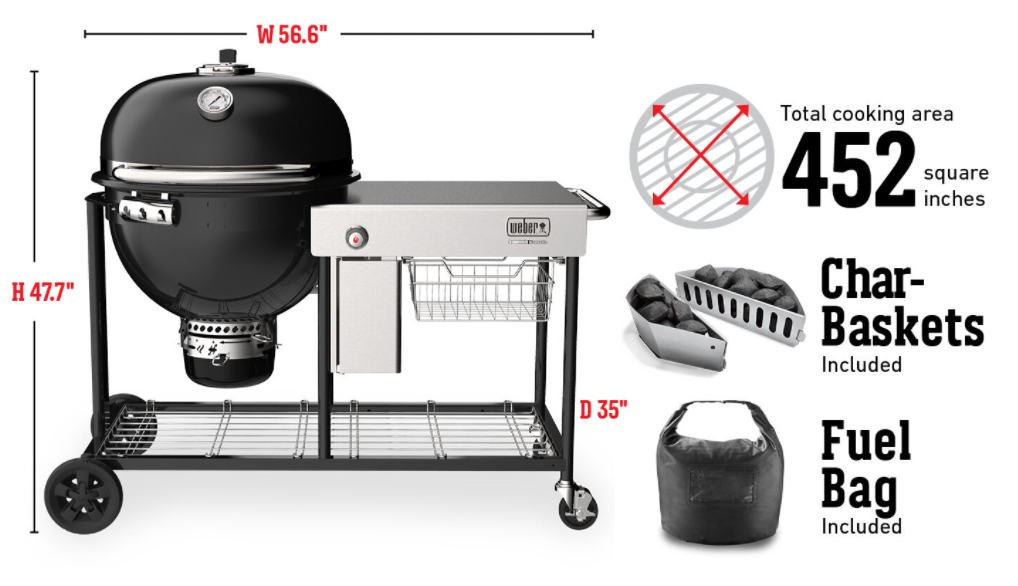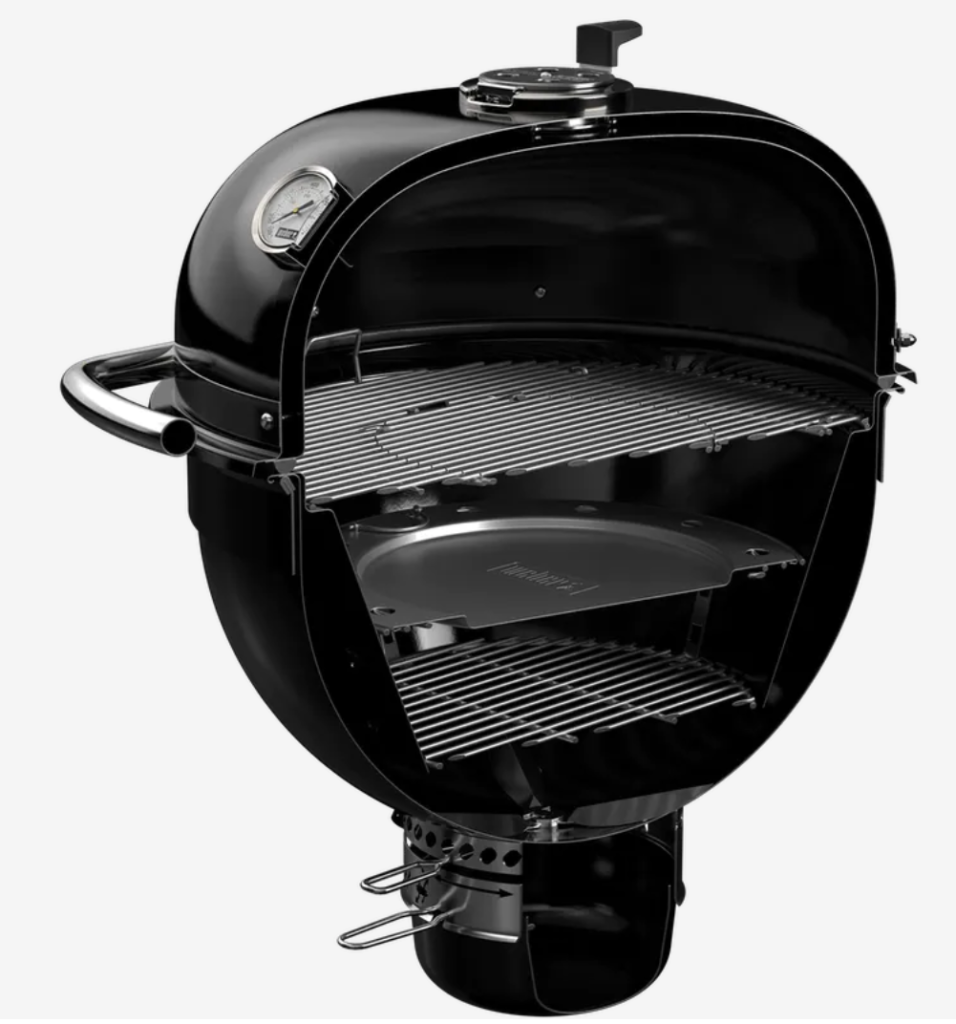 The Summit Kamado grills are the most versatile charcoal grills that Weber carries. They can smoke meat and can be used as a regular grill. They are close to $1k and $2k with a table, so probably not great options for first time grillers. But if you wanted to jump right into the best that Weber has to offer and have a grill that can be used as a smoker, then this could be the best option for you.
Backyahd Recommended: Yes – Love the versatility as it can double as a smoker.
Smokey Mountain Cooker Smoker – ~$250-500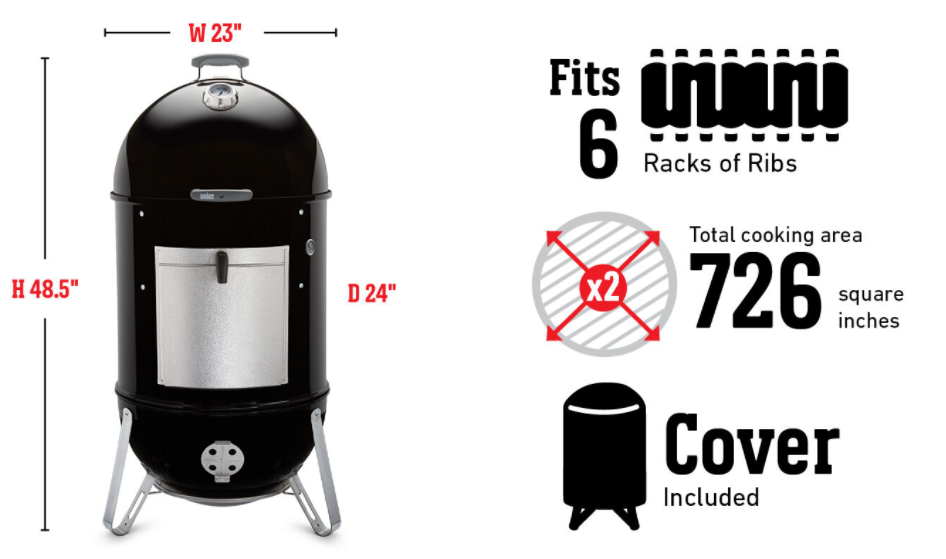 These are great smokers. But not great grillers. If you want a dedicated smoker to do ribs, brisket, whole chickens, then this is the way to go. Yes, people have grilled with them by taking out the middle piece, but it wasn't meant for that. If this is your first foray into charcoal grilling, then stick with a Kettle for now and then, once you get the hang of it, you can also purchase a Smokey Mountain. If you do go with the Smokey and want to do a full rack of ribs or a brisket, then I recommend going with the 22″ so you don't have to cram everything in there. I'm not sure why someone would want a 14″ Smokey, other than to save space. And my neighbor has the 18″ and wishes he had the 22″.
Backyahd Recommended: Yes – But only if you want a dedicated smoker and get the 22″.
Conclusion
We hope the post helps you understand all the Weber charcoal grill features and you know which grill you need to buy.
Let us know your thoughts or ask questions about Weber charcoal grills in the comments.
Jonny